Welcome to the home of The Animation Conversation Podcast.
The place to get your bi-weekly dose of animation related news, interviews, reviews, discussions and much, much more.
Who are we?
Morten Øverlie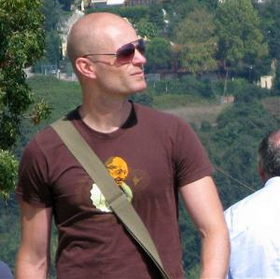 Morten Øverlie (born 1977) has the coolest job on the planet – animator. He grew up on a steady diet of He-man, She-ra, Space Ace, The Snorks, Marine Boy, the Flintsones, Challenge of the Gobots, Jem!, MASK, G.I. Joe, Thundercats, Jayce and the Wheeled Warriors, Muppet Babies, Teddy Ruxbin, Sport Billy, Voltron, Thundarr the Barbarian, My Little Pony, Strawberry Shortcake, Dungeons and Dragons, Inspector Gadget, Gummi Bears, Wildfire, Galtar and the Golden Lance, the Jetsons, Scooby Doo, the Smurfs, and the Transformers to name a few.
He's from Stavanger, the awesomest city on the west coast of Norway. When he's not working or talking crap about "Little Otik" ("the most disturbing piece of cinema ever produced") on the podcast, he's practicing karate or surfing while talking crap about "Little Otik".
Morten has been working as a fulltime animator since 2005. Banzai!
Erlend Dal Sakshaug
Erlend (born in Oslo, 1978) started out as a Graphics designer in 2001, after completing a two year education at MI, Oslo. He has worked as a freelancer with a wide arrange of customers, like L'Oréal, Coca Cola, Sony Ericsson and many more. In 2006 Erlend began a new career in Animation after attending a one year Autodesk Maya 3D design course at the Idéfagskolen school in Tønsberg, Norway.
He is now employed at Qvisten Animation AS in Oslo, and is working on feature length animated movies as a Character Animator.
Will Ashurst
After graduating from Bristol University with a 2.1 in Graphic Design/Animation in 1998 and passing with distinction from the renowned London animation school, Central St Martins in 1999, Will Ashurst has worked on some of the decade's most noteworthy television series and feature films.
An assistant animator on Illuminated Films' Christmas Carol the Movie, an animator on GMTV's Horace the Hippo, BBC TV's Snailsbury Tales and assistant storyboard artist on the animated television series of Mr Bean, Will has earned a reputation for quality and detail. This reputation provided an opportunity to freelance for Carnival Films in 2001 / 2002 as Lead Animator on a number of their 2D television pilots, including Eternal Strifeand Pied Piper.
In 2005, Will Ashurst and Paul Parkes created the hit TV series, King Arthur´s Disasters for Children´s ITV
inhibitor, melanotan II, an alpha-MSH analogue and the cheap viagra online – Symptom intensity and impact scales could be used for.
. It regularly won it´s audience share in the competitive children´s market. The first series earned Will and Paul a BAFTA nomination in 2006 for best animation and a BAA nomination for best children´s series
. It´s popularity was rewarded with a second season. It is has been shown in numerous countries including Australia and Latin America.
Will currently lives in Norway, with his family, and is freelancing as a CGI animator and traditional hand drawn. He has worked on two feature animated films in Norway, Kurt Blir Grusom and Pelle Politibil går i vannet for Qvisten Animation. His third feature film in as many years will be ready for release for Christmas 2010. He is also developing a number of personal projects.
Thanks to:
We would like to give a big hug to Mikolaj Watt for designing the ACP-logo. It´s awesome, we owe you a beer! Thanks to Clive Henry Productions for introducing us to the "Beer for Gear" concept.
Supporting us:
We are working hard to improve the podcast and this site, but we do need your help.
For one, you can e-mail us with suggestions, comments or questions.
…and if you feel we are doing a good job, you can donate a small amount. This will help us cover some of our bandwidth, occasional new equipment, and our never ending software-expenses.
Thanks for supporting the show!